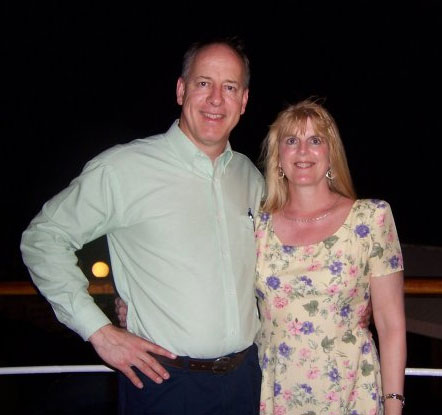 Pastor Martin Stidham
Pastor Martin has been the Senior Pastor of CIEFC since October of 1999. Before coming to Chicago, he and his wonderful wife, Barbara, worked with OMF International for ten years. This included two years in St. Louis working with international students / scholars and seven years in Central and Southern Thailand doing church planting. Martin has also spent time in other pastoral roles in Mississippi and California. He is a graduate of Southwestern Seminary in Ft. Worth, Texas and Vanguard University in Costa Mesa, California. Martin & Barbara enjoy their two children, Christina and Matthew, Martin enjoys biking, dark chocolate, and the Dodgers.
Barbara Stidham
(Ministries Coordinator)
I was raised in a Christian home and asked Jesus into my life as my Savior and Lord when I was 9 years old. One verse that meant a lot to me when I became a Christian was Proverbs 3: 5, 6 "Trust in the Lord with all of your heart and do not lean on your own understanding. In all of your ways acknowledge HIM and He will direct your paths." Several years later, when I was only 13 1/2 years old, my father died suddenly from a massive heart attack. It was a hard time for our family as my mother was left a widow at the young age of 40 years old with 3 children. I was very close to my father and still miss him to this day; but, from this difficult experience, I learned that my heavenly Father would take the place of my earthly father and HE would walk with me and lead me in HIS ways and He would love me deeply as a father loves his children. At the age of 15, I believe that my heavenly Father called me to work with people of other cultures and nations and share the good news of Jesus with people who had a different culture and language than mine. Everywhere I went, I was attracted to people from different countries and God gave me a deep love for these special people. I knew that God would lead me to a husband with that same calling and love and HE did. I met Martin Stidham while working on my M. Div at seminary in Ft. Worth, Texas. Together, we sought God's will for our lives and He led us to marry in 1986 and to serve Internationals through OMF International (started by Hudson Taylor as the China Inland Mission). We served in Thailand for 7 years. We loved being in Thailand and God blessed us and we saw both Thai people come to Jesus and a church started in Hatyai (Southern) Thailand. In God's timing and way, He called us back to America and to pastor Chicago International church. I have a great desire to see Internationals from around the world become children of God. I serve as Ministries Coordinator at International church, which means I seek to coordinate our different ministries including Worship team, Sunday school team, Visitor/Greeter team, Hospitality team and Set-up/take-down team. In 2010, I was also asked to join the church board as a Deaconess. It is an honor to serve my heavenly Father through our International Church!! We are also blessed with two wonderful children: Christina is a missionary in Thailand with OMF International and Matthew is a Captain in the army. He has served the past 4 years in South Korea and Japan. We are very thankful for the many ways our International church serves us, too!!